Fair WARNING!!!!!!! I'm not KIDDING!!!!!!
This post contains offensive material on all kinds of levels.
I was even going so far as to post it on another blog so as not to horrify my readers, but I'm sucking it up, putting on my BIG GIRL
panties and proclaiming loudly that I'm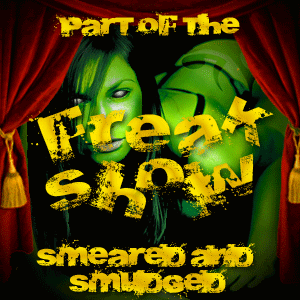 Aren't you proud of me Jenn, Glo, Tori and the rest of you guys? I did, however, take precautions that this would not show up on anyone's sidebar by predating it. You're welcome. You still have a chance to look away, though.... okay, just don't go sending me nasty emails now, ya hear?
This week's Smudgy Antics Challenge is "Twisted Sister". Just how twisted can I go? Well, obviously pretty twisted. In my defense, we watch a crapload of shows on serial killers and nasty forensic stuff so...yes, t.v. does rot the mind.
Originally this was going to be a Thanksgiving card inspired by the Smeared Ink sentiment from the Serial Killer Santa set. This ought to give you a pretty fair indication of what's coming. Scared yet? Well, you SHOULD BE!
You can still bail. Honestly, I wouldn't mind.
Don't say I didn't warn you!
Funny how that Femdom set keeps popping up. She's available as a single, too. The bloody knife is borrowed from the net. The color scheme (not to mention the candy cane noose) just screamed Creepmas so I ditched the Thanksgiving theme.
and inside...
While on my morning walk the other day I saw a discarded fast food bag on the side of the road with "Eat like you mean it" on it. It tickled me, and was perfect for this card so... Hell, I ALWAYS eat like I mean it, but if you know anything about Ed Gein, you'll understand the rest of the sentiment. The candy cane border is an EK Success punch and the lovely blood spatter is from the Inky Dreams Rubber set from Smeared Ink. Oh and BTW, Smeared Ink is reissuing some of their old rubber sets as well as introducing new ones for their new Rubber Club. For details click HERE.